Is Your School's Technology Meeting Standards?
In evaluating technology needs and vendors, it's easy to get overwhelmed with all the information and technologies out there. Ultimately, you want to be sure that the right level of investment is made to match your school's objectives. That's where the K-12 Tech Check comes in.
The K-12 Tech Check includes three steps:
Evaluation: We will gather information about your school's existing IT infrastructure and assets.
Analysis & Comparison: We will analyze the information on your school and compare it to peer schools' technology benchmarks and best practices.
Recommendation: We will put together a recommended technology path forward. Interested? Fill out the form below and/or schedule a time with us to discuss further.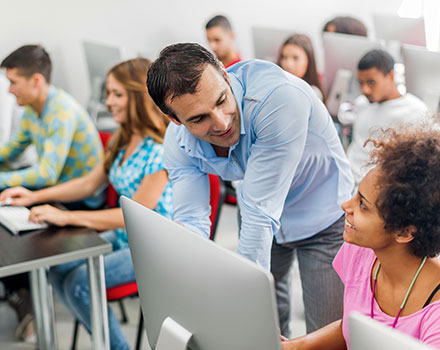 Interested?
Fill out the form below and/or schedule a time with us to discuss further.
What Our Clients Are Saying
As the technology director of a small, but very technologically progressive PK-8 school, I highly recommend Julio Lopez and his very qualified team of systems engineers at IT for Education. I have had the pleasure of working with Julio throughout the last 20 years. His loyalty and dedication have contributed to making our business relationship both effortless and pleasant. His team's knowledge and expertise coupled with their willingness to go the extra mile in fulfilling my requests and timelines have made IT for Education the go-to expert school for our most significant projects. They always take the time to discuss my concerns, provide solutions and respond to my questions. In many instances, they have been my lifesavers, resolving emergency situations during non-business hours to ensure that we are up and running during school hours.

Sylvia Fraginals
Technology Director
St. John Neumann Catholic School
The IT for Education staff is without a doubt the hardest working group of techs that I have encountered. We recently embarked on several technology initiatives that have been planned and implemented in a professional and timely fashion. IT for Education supported us through the entire e-Rate process. As a result, we were able to use all the funding received and create a plan for the present and the future. With the help of IT for Education, we were able to install all new computers in our computer lab, enhance our server productivity, install software to better manage and utilize our iPad devices, and establish new policies and procedures to increase student learning and safety.

Michele Burke
Technology Coordinator
St. Ambrose Catholic School
I have worked with Julio Lopez and the IT for Education team for almost four years now and they are invaluable in supporting our educational technology initiative at St. Coleman. We were fortunate to have a technology growth spurt with the addition of over 600 iPads and MacBooks to our campus five years ago but experienced some difficult growing pains along the way that exceeded our resources and experience. From infrastructure upgrades and Apple deployment solutions to daily troubleshooting, repairs, and staffing our IT Help Desk - Julio, Angel, and Mike helped us get the job done with a smile and continue to do so every day. SCS is extremely fortunate to have a partnership with a hard-working school that is not only knowledgeable about technology but also understands its applications in education.

Ms. Terri Kukuck
M.S.
St. Coleman Catholic School